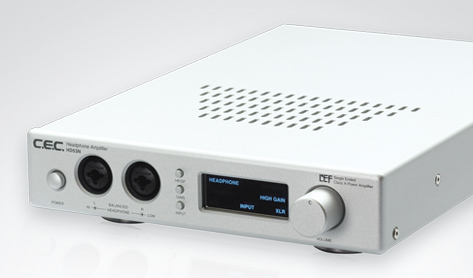 The HD 53N is a headphone amplifier with fully-balanced circuitry from input to output, offering balanced outputs for headphones as well as speakers. The HD53N offers clear, high-quality and low-distortion sound reproduction through two of CEC's proprietary technologies; a LEF (Load Effect Free) circuit with no feedback loop (essential to offset individual transistor characteristics, but tends to deteriorate sound quality), and IGM (Intelligent Gain Management) volume control that enables high density sound from low to high frequency range even at very low output levels.

Due to the wide variety of headphone types from low to high sensitivity and impedance (16Ω - 300Ω), a dedicated headphone amplifier needs to be highly adaptive. The HD 53N combines two 6.3mm output terminals of differing impedance levels with two selectable output gain levels to accommodate a wide selection of headphones, taking maximum advantage of each headphones' characteristics and features.

The 6.3mm output terminals offer two levels of impedance; 10Ω for standard headphones and 120Ω for headphones optimized for use with high output-impedance amplifiers.

Furthermore, the HD 53N offers a toggleable HIGH/LOW gain selector to cover for sound pressure level excesses/deficiencies that are beyond the range of volume control, allowing sound reproduction at optimal levels for each set of headphones. This gain selector is available for all of the HD53N's outputs; balanced headphone output, standard 6.3mm plug headphone output and speaker output.

Miscellaneous Features
• The HD 53N uses Neutrik's advanced high-grade XLR/6.3mm combination headphone jacks in order to support both balanced and standard headphones.
• Use of balanced headphones is recommended for optimal performance.
• High grade speaker terminals and a large 50W toroidal transformer that enables stable supply of power allow the HD 53N to be used as an ordinary control-power amplifier.
• The HD 53N features one unbalanced RCA and one balanced XLR input terminal, offering high-quality sound reproduction especially when combined with CEC's DA 53N Multifunctional D/A Converter.
• Compact yet easy-to-read display of input/output modes and gain control options.




Specifications:

Frequency response

10Hz - 200kHz, ±0.5dB

S/N Ratio

Headphone LOW/HI: 103dB

Headphone Balanced: 110dB
Speaker(8Ω): 103dB

THD

Headphone LOW/HI: 0.06%

Headphone Balanced: 0.009%
Speaker(8Ω): 0.03%
Output Power

Headphone LOW: 1.15W x 2 (32Ω))

Headphone HI: 0.25W x 2 (32Ω)
Headphone Balanced: 4.7W x 2 (32Ω)
Speaker: 13W × 2 (8 Ω), 18W × 2 (4Ω)
Load Impedance

Headphone: 16 Ω - 2k Ω

Speakers: 4 Ω - 8 Ω
Gain
High / Low (Selectable )

Input

Balanced x 1 (XLR, Hot=2)
Unbalanced x 1 (RCA)
Headphone Output
Balanced x 1 (appr.. 0Ω)(Hot=2, Cold=3)
6.3mm x 2 (appr. HI: 120 Ω, LOW: .10 Ω)

Speaker Output

Balanced x 1

Power Consumption

Stand by Mode: 14W
Headphone: 23W, Speaker: 50W

Dimensions

218(W) x 354(D) x 58(H) mm

Weight

3.2kg

Color

Silver
CEC THE DRIVE | SINCE 1954