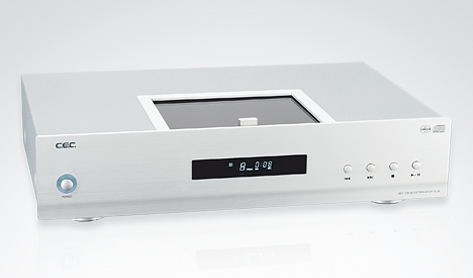 A CD transport combining unique belt-drive engineering with advanced digital technology. A double belt-drive mechanism, separate motors for laser and turntable, combined with CEC Superlink.

The CEC Superlink is our innovative signal interconnect solution. It requires four discrete interconnect cables. The
left/right-clock data, bit-clock data and digital audio music data are all transmitted from the CD-transport to the DAC while the master-clock is generated inside the DAC and sent to the CD-transport. The transmission is done with 4 x 75-Ohm BNC cables with impedance matching.

The TL 3N follows the same design philosophy as the TL 1N at a more affordable price. The TL 3N mechanism with two motors driving the laser and turntable, as well as the double suspension, eliminate internal and external vibrations. This is an evolutionary integration of analogue and digital technology. The top-loading design allows the use of a stabilizer for maximum disc stability.

Last, but not least, there is an input for a single, universal,
master clock signal from an external clocksignal generator. This can ensure that you only have one master clock, and that all slave units reference a single clean clocking signal. This word-clock maintains a perfectly-timed and constant bitrate to avoid data errors.


Specifications:

Drive System

Double Belt Drive // Spindle & Pick-up

Playable Discs

Audio CDs & Finalized CD-R/RWs

Power Supply

AC 100V/120V/230V/ 50-60Hz

CD Stabilizer

Diameter 70mm, Weight 330g (Brass)

Digital Input

Word Clock BNC x1: 44,1kHz

Digital Output

AES/EBU(Balanced XLR) x1: 2.5Vp p/110Ω

COAXIAL(SPDIF) x1: 0.5Vp-p/75Ω

TOS x1: -21 ~ -15dBm EIAJ

SUPERLINK x1(BNC x4): 2.5Vp-p/75Ω

Consumption

Power Consumption 7W

Dimensions

435(W) × 296(D) × 100(H) mm

Weight

10 kg

Color

Silver or Black
CEC THE DRIVE | SINCE 1954