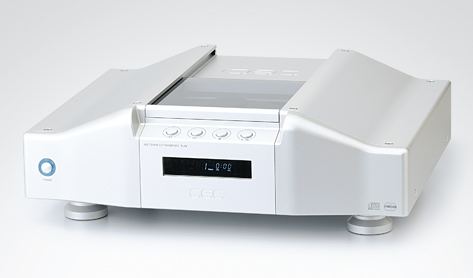 Top-of-the-line analog technology's answer to the digital challenge. During the playback of audio CDs, the rotation speed of the disc needs to be reduced gradually as playback proceeds outwards, in order to keep its linear speed constant. In most cases, a spindle motor handles this velocity adjustment.

Most CD players and CD transports are designed with a direct-drive system, which places the motor just under the turntable and drives the spindle directly. A relatively large motor is needed to ensure adequate velocity adjustment, making it virtually impossible to be exempt from signal distortion caused by vibration and electromagnetic noise from the motor.

The TL 1N features multiple digital outputs includingCEC's proprietary "SUPERLINK" system, AES/EBU (XLR), COAXIAL, and TOSLINK (optical). Of particular note, CEC's SUPERLINK system, which transmits audio signals and synchronization (clock) signals separately to minimize encoding/decoding jitter, has evolved into a multiple-cable system using highquality 75Ω BNC cables, adding further polish to the CD transport's essential role of accurately conveying the information recorded on a CD.

The TL1N's outer casing features a modern and organic curved design as well as high-quality 30mm aluminum boards, which add to both its visual appeal and structural hardiness. Its smoothly curved surface randomly dissipates external vibration from speakers and such, improving the TL1N's resistance to noise over the original box-shaped TL1.

The TL1N uses an advanced switching power supply with an integrated AC line power purifier, providing stable power to its motor, servo, display and digital circuitries.


Specifications:

Drive System

Double Belt Drive // Spindle & Pick-up

Playable Discs

Audio CDs & Finalized CD-R/RWs

Power Supply

AC 100-240V / 50-60Hz

Chassis

Aluminum (Maximum Thickness:30mm)

CD Stabilizer

Brass (ø120mm, weight:370g)

Digital Output

AES/EBU(Balanced XLR) x1: 2.5Vp p/110Ω

COAXIAL(SPDIF) x1: 0.5Vp-p/75Ω

TOS x1: -21 ~ -15dBm EIAJ

SUPERLINK x1(BNC×4): 2.5Vp-p/75Ω

Dimensions

435(W) × 364(D) × 145(H) mm

Weight

14 kg

Color

Silver
CEC THE DRIVE | SINCE 1954